As trainers, we often come across this question of how to improve IELTS scores or general English. The ultimate solution to this is reading. To learn more vocabulary, to understand grammatical structures, to get more ideas for speaking and writing, to make fewer mistakes with the usage of the language, you need to read. We often recommend reading the newspapers (the editorials are of great benefit). Though, we are also aware of the fact that many of you do not enjoy reading the newspapers. You definitely need to have ideas from the news and you do need to read the newspaper but not all the time. You do need a page-turner, something that you cannot put down or get bored of, a book with an interesting plot.
To improve IELTS scores, we always encourage our students to live their lives in English more to increase their confidence and improve fluency as they speak. The best way to do that is to have a book with you at all times, a book that you really want to read and that you enjoy reading, unlike newspapers.
But when it comes to reading, an important question is how to pick a book for oneself. If you don't choose the right strategy to do so, it can become a scary or overwhelming task. You might end up picking a 500 pages book with higher-level words and then leaving it on the shelf as a showpiece. Before you pick up any book, create a mindset that your main aim or goal to read any book should be to enjoy it and not to try to look up 100 words in a dictionary and learn them. Our brain anyways cannot take and comprehend so many words at a time. Definitely, a book will improve your vocabulary and language skills eventually but that should not be your target when you pick a book.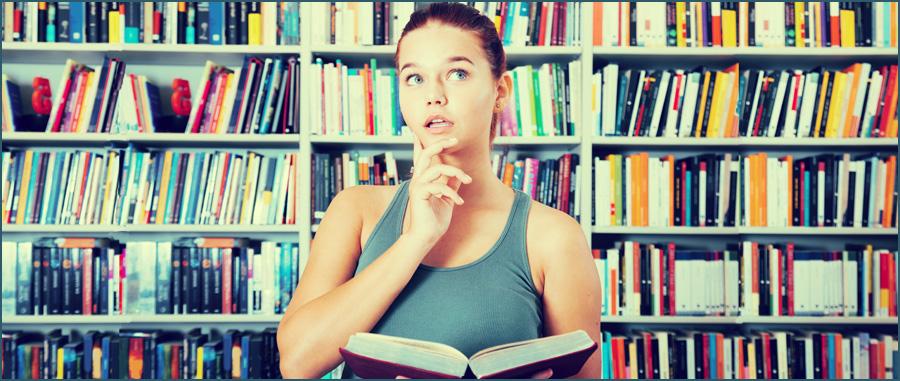 So let's look at the ways to choose the right book and use it to help you improve your English language skills. This would also let us know how it can help you to improve IELTS scores in the process. 
Choose the correct one:
If you are picking up a non-fictional, make sure that you do not pick a book that is highly specialized or else it can be out of range while comprehending. Reading a book should not turn into a 'reading a dictionary exercise' for you. So, find a book which is not too difficult but not too easy as well. You can read the excerpts of the book online at bookbrowse.com to understand the difficulty level of the book.
Learn vocabulary from the context:
Whenever you come across new words, try to think what they would mean based on the context of the story, before looking for them in the dictionary. Many a time you would notice that you are able to guess the meaning of the words without opening up a dictionary. While you note down such words, do confirm their meaning in the dictionary.
Analysing:
Once you have finished reading the book, take some time to reflect upon what you have read. Analyse what you liked or disliked about the book. You can try writing a one-page summary or review of the book as well. This will also enhance your writing skills.
Novels for you (esp. Indian) to read and improve IELTS scores as well as language skills:
This novel is about an Indian (Bengali) boy who deals with identity issues in America and is unable to cope with the generation and cultural gap with his parents. This book revolves around the situations arising due to conflicting cultures and ideological differences. It is a perfect representation of the struggles that every generation faces with each other and how it affects the family where each generation is from a different culture.
How is this book helpful for IELTS?
This book covers many of the IELTS writing and speaking topics and you will learn vocabulary for the topics like:
Migration
Description of places
Urban cities vs. Small towns
Mental health
Relations
Raising children
Apart from this, it is an interesting read and you won't be able to put it down.
Scar Island is an adventure and survival novel that includes dealing with the truth and coming to terms with the truth. It is the story of  Jonathan Grisby who is just another young criminal sentenced to spend time at Slabhenge Reformatory School where he can pay for his crime. However, due to an accident, authority figures die. Jonathan and other accused criminals are left alone to plan to stay on the island without having to go back home and deal with their crimes. The freedom actually turns out to be a power struggle amongst the group brewing up another storm.
How is this book helpful for IELTS?
It is a thought-provoking novel making you examine and consider your opinion on a controversial topic of 'Juvenile crime', which is coming in IELTS writing. This book builds up your vocabulary on:
Capital Punishment
Juvenile crime
Mental health
Legal /Justice system
Salman Rushdie's masterpiece and Booker Prize winner, "Midnight's Children," is a work of magical realism that deals with India's transition from British colonialism to Indian independence. History doesn't interest many people. However, this one can keep you glued with the way it has been made interesting in the form of fiction. It is the story of a boy who was born the midnight when two new nations were born too. His narrative stretches over 30 years of his life, moving backwards and forwards in time. One can consider Midnight's Children to be the most illuminating work of postcolonial literature ever written due to the vast historical frame that it covers.
How is this book helpful for IELTS?
IELTS Speaking has many questions related to the topics that this book covers, like:
Revolution
Migration
Identity
Patriotism & Independence
Historical Places
Indian Culture, Traditions, Food
This will surely not just improve your knowledge but historical word bank as well.
Takeaway
Novels can definitely be a better read than newspapers. Find yourself something interesting that you can't put down. You will improve your reading skills, grammar and spelling. They will fill your brain boxes with vocabulary for many different topics.
Hope you find this blog to be helpful.
Do comment about the novels that you have read and they proved to improve your language skills.
Also, find the types of questions asked in the reading section here.
Click here to register for a free Demo session here.